How can just a title appeal to a reader? I don't really know the answer to that question but when it comes to this book, that's what happened. One of my friends purchased this book from a book fair. I just saw the title on its spine and was attracted to it. I didn't know if it was a novel, a poetry collection or a collection of short stories (which it is). I only knew that it was a translated work of fiction.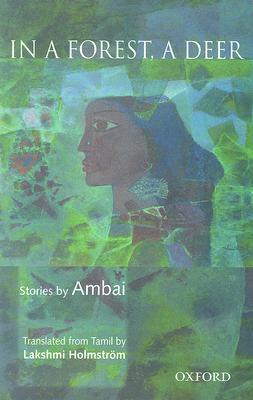 Though I have had this book since nearly a couple of years now, I haven't had the chance to finish it until recently. I did however pick up another of the author's collection, and loved that. The stories are different of course but there are similar themes. Many stories seem to be set in a mode of transport or on a journey. Each of them are snippets of life, observing and recording in a simple language, yet alluring the reader as well. In "One and another", the author shares a tale of fierce friendship, or is it love? The author narrates, giving perspectives, and finishes with a twist, making me, the reader, contemplate.
A different style, direct and engaging…
Ambai's style is different. When other authors might have exercised restraint in some places, the author chooses to be direct, in your face, true to what might actually be thought, or happening. That's suprisingly refreshing, and a big positive of the book. Her stories focus on society more often than not. They put the spotlight on family and the associated rules that some rebellious characters break, and others cling to religiously. The characters are quirky and free, something one might not necessarily see in society either. They are mostly Tamil based but not always based in Tamil Nadu. The author plays not just with views but with emotions too, keeping me engaged.
A gem from regional literature…
I wouldn't say the collection is unputdownable. These are short stories, so one has the option to read them a couple at a time. My favorite stories from the collection are "One and Another", the "Journeys" stories, and the title story, "In a Forest, a Deer". Reading these translations makes me happy to know there is beauty in regional literature. But while Lakshmi Holmstrom does a good job with this translation, it also makes me sad I cannot read the stories in their original language.

---
This is the 10th year of the #AtoZChallenge and my tenth year attempting it. My theme this year is Books – Read and Loved. As evident by the theme, I am going to write on books I've read and loved.
---
Liked this? Read some of my earlier posts written about Books.
---
Vinay Leo R.
10. 04. 2019