In the magical world of Harry Potter, owls are very helpful. They fly during the day, carry the mail, and deliver newspapers and even heavy items like broomsticks. They are also quite loyal to their owner and like to be fussed. Though there are many owls, in the series, only three or four are named and told to us. Hermes is a screech owl that belonged to Percy Weasley, a gift from his parents when he became a Gryffindor prefect. He's only mentioned a couple of times in the entire series, and most memorable for when Percy sends a letter with Hermes to Ron advising him to avoid Harry's company. Another owl that belongs to the Weasley family is Errol, a Great Grey owl. Errol is more known for its comical appearances through the first four books. Ron calls Errol a menace. I'm reading the fourth book these days, so Errol is most remembered for delivering Harry the cakes and meat pies that help him survive the 'Dudley diet'. The third owl, belonging to Ron Weasley from the fourth book onward, is Pigwidgeon. The owl is a Scops owl that answers only to the name Pig, and was named by Ginny Weasley. Towards the end of the third book, a small owl delivers Sirius' letter to Harry, where Sirius mentions Ron might like to keep the owl, since his former pet Scabbers is no longer there. This owl later is named Pigwidgeon, and is perhaps the most excitable owl in the whole series, always eager to deliver letters and even show off to the girls. This is not appreciated by Harry's owl who believes post owls must act a certain way.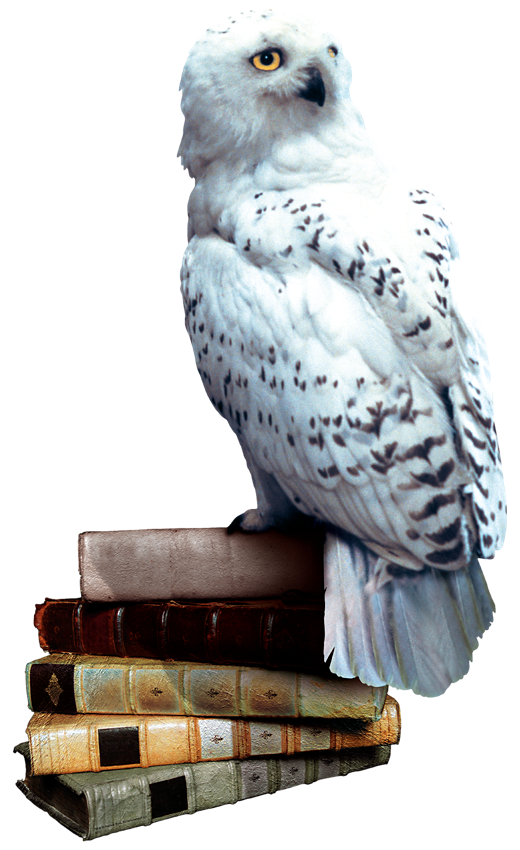 When a boy of eleven, who is mistreated and not cared for by his guardians, finds that he has a world he is a part of, but knows nothing of, every part of that world would be exciting to him. But when he returns to the house, to his guardians for vacations and breaks, he'd still be alone. And Harry would have, and felt that separation from Hogwarts and the world of magic more, had it not been for the presence of his owl, a Snowy owl gifted by his friend and Hogwarts gamekeeper Hagrid on his eleventh birthday. If there was a creature in the magical world of Harry Potter that I admired the most, it was Hedwig, named by Harry from something he found in The History of Magic. She not only became a carrier of Harry's mails, which she always delivered promptly, but became Harry's companion during the long summer vacation which he had to spend at Privet Drive.
The expression 'wise as an owl' is so apt for Hedwig, who is wise, and very aware of what Harry would like. She sees Harry not being treated well by the Dursleys and goes to France, where Hermione is on vacation, and ensures that his birthday present reaches on time. She senses his presence and movements and makes sure she is there if he needs her, like arriving at the Leaky Cauldron just after Harry arrives there in the Knight Bus. She's also obedient to Harry's wishes too. She's proud of how she handles herself, as she shows when Pigwidgeon makes it difficult for Harry to tie a letter to his leg. Perhaps the second-most saddest moment in the series that involves Hedwig is when Umbridge and her mail-checking system try to intercept Harry's mail and hurts her wings badly. Even with that, she delivers the mail, showing how brave an owl she is. The saddest moment in the last book, for me, is imagining Hedwig's death scene, the emotions going through Harry as he sees her dying, refuses to believe it and hangs on to her till he has no choice but to let go. I hoped that in the future, Harry would have another Snowy owl who he'd name Hedwig, and give to his son.
There are owls, and then there O.W.Ls. In the world of Harry Potter, the examination that every fifth year student at Hogwarts has to undertake is called Ordinary Wizarding Level, or O.W.L. These are conducted by the Wizarding Examinations Authority. When I read the fifth book, this was a very interesting part of the book for me. The best part of the exam is the practical exam, I feel, and I had a big smile on my face as I imagined Harry looking right at Umbridge's face and imagined her being fired to be the happy memory that gives him a bonus point in the Defence Against the Dark Arts OWL exam. It was one scene I wished was recreated in the movie. There are six grades of rating in an OWL exam (O for Outstanding, E for Exceeds Expectations, A for Acceptable, P for Poor, D for Dreadful and T for Troll). The first three are pass grades, and the second three are fail grades. Depending on the grades they get, each teacher can accept or reject students for their subjects from sixth year onward. A particular instance that favors Harry is when Dumbledore hires Slughorn to take potions. Harry, who had only got Acceptable in the Potions OWL, would not have been able to continue Potions had Snape been the Potions master. This is a change that I loved to read, for the Potions class in the sixth book is one of the best. If only all exams were such fun!
---
How fast time seems to fly by. I remember taking part in the first ever April A to Z Challenge, where for the month of April (except for Sundays) we write on themes around the 26 alphabets. This year marks the 7th Blogging from A to Z Challenge, and my 7th as well. I've successfully completed 4 of the 6 years before, so hoping for a fabulous 5th year of blogging success. You can go here if you want to know more about what the challenge is. My theme this year is 'The World of Harry Potter'.
---
(© 18th April 2016)