I've talked about spells like Alohomora, food like Butterbeer, characters like Fred Weasley and places like Diagon Alley over the challenge so far. And it has been fun, remembering these things from the magical world I am most fond of. Another part of that world are magical objects, like broomsticks and wands, or closets that help you travel from one place to another, or even clocks that can tell where a person is or what they are doing. However, the two I am talking of today are not any of those I've mentioned so far. The first one plays a very important part in one book. The second one starts with the third book (again, I find that my memories of Prisoner of Azkaban are quite strong) and is featured in most, if not all of the remaining books.
There's nothing in life like expectations or desires. They are two of the more common things that stem from emotions in life, I believe. It's what we face in life that makes them more prominent. The first object in the world of Harry Potter I'm speaking of today is a mirror. The Mirror of Erised is one that we read about first in The Philosopher's Stone. It's a large ornate mirror that Harry comes across when he first sets to explore the Restricted Section of the Hogwarts library under his cloak of invisibility. The wordings, "Erised stra ehru oyt ube cafru oyt on wohsi" which, when read in reverse, tells what the mirror is about. Harry, who has grown up without his parents, sees them standing near him when he looks at the mirror. Ron, who has been outshone by his brothers, sees himself outshining them all. As the reverse says, "I show not your face, but your heart's desire." It also plays a very important part in Harry getting the Philosopher's Stone. It was one of the scenes that made me contemplate the importance of selflessness. When I read about the mirror, I imagined myself looking into it, and wondered what I'd see. Introvert that I was, and maybe still am, I then felt I'd see myself playing with my classmates without them making fun of me.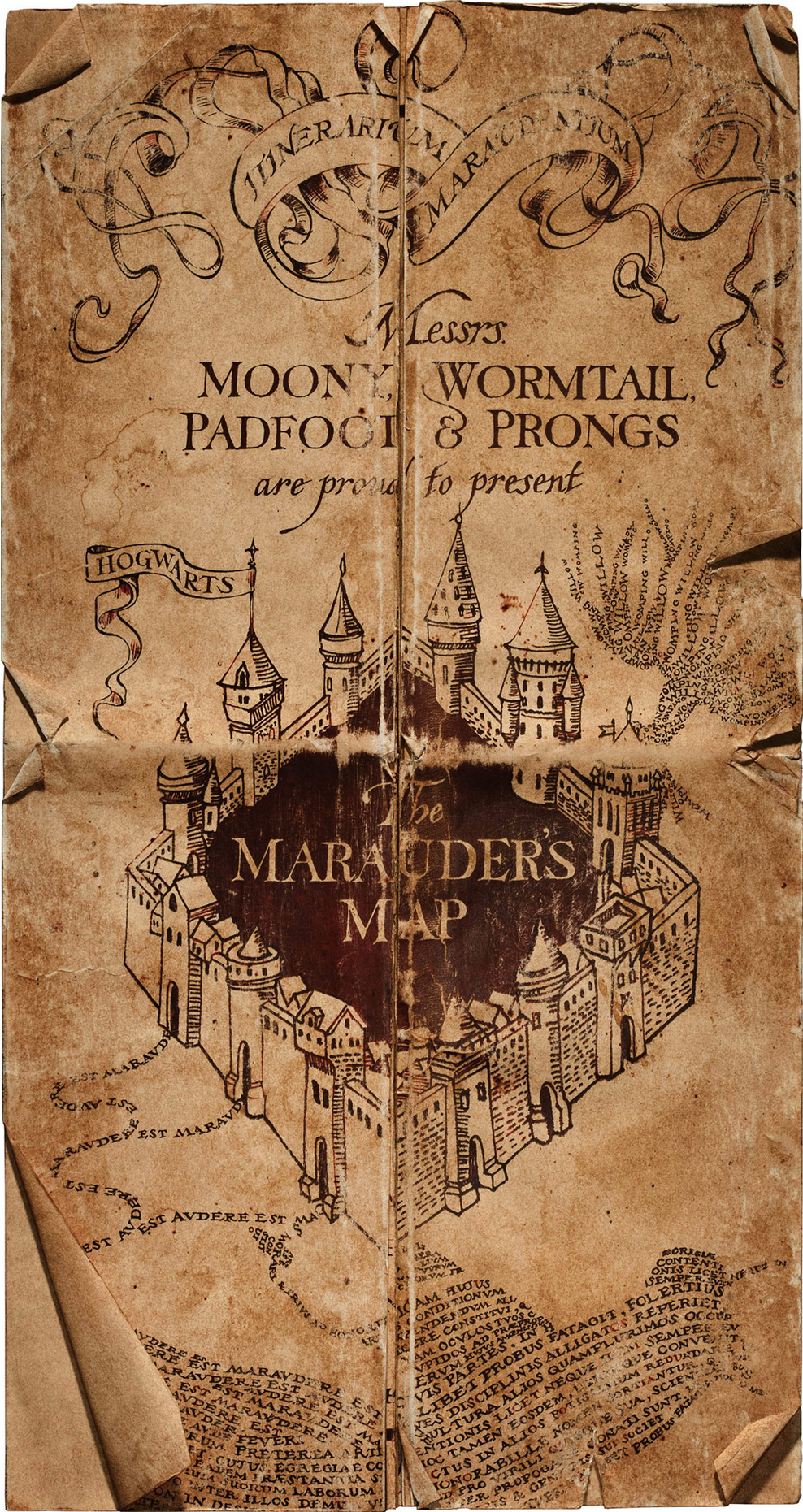 It'd be so easy to avoid certain people if we had a way of knowing where they were at any given time, and what they might be doing. It'd also give a way to escape if we were to be playing pranks and didn't want to be caught. Having read the third book of the magical world first, one of the first things I wished for to be real was The Marauder's Map, and for such a map to exist for my own school. The Marauder's Map shows the Hogwarts School of Witchcraft and Wizardry, its halls and secret passageways, its residents and what they are doing at what time. It doesn't show some rooms, and cannot differentiate between two characters with similar names. It also shows what has to be done to access those secret passageways. The map was found by the Weasley twins Fred and George in Argus Filch's office, and they used the map to explore those hidden passageways. Having memorized most of the locations of the passages, they then bequeathed it to Harry. It's only after Harry gets it, and toward the end of the third book, that we come to know that Lupin, Sirius, Pettigrew and Harry's father James are the creators of the map. It makes me wonder now, if they were so clever, how come all four were in Gryffindor and not Ravenclaw. Harry uses the map to go visit Hogsmeade, to keep track of the teachers and Filch while the DA held their sessions, and to sneak into the prefects' bathroom to decode his golden egg during the Triwizard Tournament. He also uses it to track Draco Malfoy's whereabouts too.
Before I end the post, what do you think you would you see if you were to look into The Mirror of Erised?
These are two of the memories I have from the series. I have to say, 'Mischief Managed' and wipe the post editor clean for the N post to be written.
---
How fast time seems to fly by. I remember taking part in the first ever April A to Z Challenge, where for the month of April (except for Sundays) we write on themes around the 26 alphabets. This year marks the 7th Blogging from A to Z Challenge, and my 7th as well. I've successfully completed 4 of the 6 years before, so hoping for a fabulous 5th year of blogging success. You can go here if you want to know more about what the challenge is. My theme this year is 'The World of Harry Potter'.
---
(© 15th April 2016)